GED® Study Guide: Study Online on Your Phone
By
Quinn Hartmann

,

Educator
January 10, 2017
Do you have a problem finding time to study? Like most people, you are probably busy. You've got things to do at home or for work. Can you really add one extra task to your plate? But then, think about the reason you're studying in the first place. If you need your high school equivalency diploma, you probably need a better job, training, or college. You want a better life! Can you afford to put that off?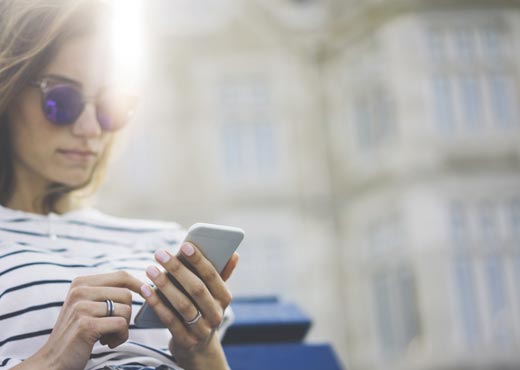 Today, technology can be a solution. If you have a phone or tablet, you can take advantage of a few minutes each day to study online for the GED test, the TASC test, or the HiSET exam. Maybe you're on the train or bus to work. Maybe you've got a 15 minute break. That time can be put to work studying online with your phone, and before you know it, you'll be making progress toward your goal.
Mobile studying isn't only limited to YouTube (although there are a lot of videos out there that you can use). More sophisticated interactive TASC test, HiSET exam, or GED test study programs online are available on mobile.
A survey of 1,000 students by StudyBlue showed that more and more people are studying on mobile. Almost a quarter of students said that they use their smartphones to study in bed. Survey respondents studied on their phones while commuting, eating, exercising, and even in the bathroom. Throughout the day, there is always some idle time.
As more and more people have access to smartphones and other mobile devices, studying online can become easier and easier. Because you have more time to study, you can progress quicker and easier with an online mobile study program.
Using Essential Education on a Mobile Device
To use Essential Education on your smartphone or tablet, download the free Puffin Web Browser app. This will allow you to use our program on your mobile device as seamlessly as on a computer. Just follow these three easy steps:
Download the Puffin app for free.
Open the program and select "Desktop Site" when prompted. This will allow you to view our program the way it was intended.
Using the Puffin Browser, go to our website and log in.
Author's Recommendations:
GED® Study Guide: Study Online on Your Phone by Quinn Hartmann is licensed under a Creative Commons Attribution-No Derivative Works 3.0 United Stated License, redistribution of this article is allowed under the following terms outlined here.
GED State Testing info
Each state has its own GED testing rules and regulations. Get the scoop on your state.