GED® Study Guide: Strategies and Resources
By
Amanda Cabrera

,

Educator
June 06, 2016
Learners who need a high school equivalency diploma want to know what to expect on the GED test, HiSET exam, or TASC test, and what programs, strategies, and resources are available to help you earn a diploma the first time you take the test.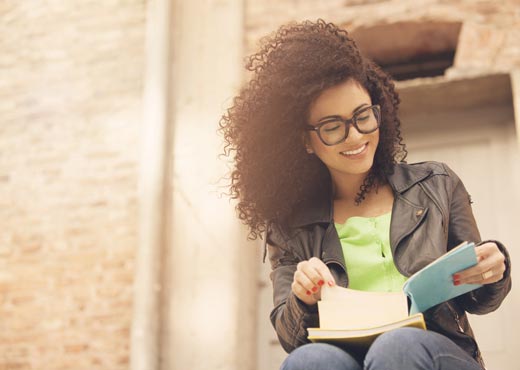 What Test Prep Is Available?
Local low-cost or free high school equivalency (HSE) or GED classes are available in many areas. Community colleges, high schools, and adult education programs will have information for your area. Even some employers offer a low-cost or free GED class through workplace development and job readiness programs.
Sometimes a free class isn't good enough, especially for people who had trouble in school. Plus, many students can't take a class because of family, job, or other obligations. Transportation issues and lack of childcare can also interfere with a student's ability to attend class regularly. Planning your own study with free online resources can be difficult. No matter where you are, affordable online courses that guide you step-by-step through studying can help you prepare quickly.
How Can I Get My GED Certificate?
Explore the Test
Review the testing requirements for your state, and find out which high school equivalency test you can take: the GED, HiSET, or TASC test. Understand what knowledge and information you need. Find out the passing test scores, and the application requirements for your community's official test centers. Individual states and provinces have their own local requirements for high school equivalency diplomas, which are awarded by the state. Find out more about the tests from the GED Testing Service, the Educational Testing Service (HiSET), or TASC (Test Assessing Secondary Completion™)
Understand the Test
To get test-ready, get acquainted with the GED test, HiSET exam, or TASC test structure. Become familiar and comfortable with the essay requirements and how test passages and questions are presented in reading, science, and social studies. Look at a math practice test to understand the math test. Understanding the test will help you learn the best way to find the right answer to increase your score. Try a free online practice test.
Practice First
Before taking the test, you'll want to get practice with a pencil-and-paper or an online half-length practice test. You'll increase your familiarity and comfort level with the test, and a practice test will determine skill weaknesses and strengths. Use the information from your practice test scores to plan a self-guided study course or decide which classes you need most. You can also determine how much time you'll need to prepare for the test and get more acquainted with the test-taking strategies that will help you pass.
Explore Online Resources
If a local class isn't an option and you need extra study to sharpen skills, look for free online resources to supplement your learning. You can also enroll in affordable online classes designed for self-guided study. While free resources are available, you may need a more advanced, helpful program to get ready. It depends how comfortable you are taking charge of your own learning.
When looking for an online class, shop wisely. Compare programs and read the fine print. Lots of online companies offer fake diplomas or promise results that they can't deliver. And taking the GED test online is not allowed!
Get Motivated!
What motivates you? There are many reasons adult learners work on their HSE or GED certificate. For some, it's a higher-paying job, a new career, or the stepping-stone to education. For others, it's simply completing an educational milestone or being a role model for their children. Regardless of your reason, it's reason enough to motivate you. You'll want to clearly identify your motive and visualize the benefits of achievement.
Motivation is essentially based on a single premise: how badly you want something. If you really want it to happen, it will. Motivation is the cornerstone of your HiSET, TASC, or GED study program, whether you opt for a classroom experience, an online class, or a self-guided study course.
When preparing for the test, prepare through small, well-planned steps. Ask for the help you need. Accomplish each step, and build upon what you've done. Then use these accomplishments as additional motivators to move you closer to the final achievement: your diploma.
Get Support
Find a community-based support group, study group, or online learning community. You may also find volunteer tutoring, free training, and other support through nonprofits, family resource centers, or community-based self-sufficiency programs and support groups. Even your workplace may sponsor continuing education programs, or be willing to sponsor one for you and other coworkers interested in education. Ask! Get support, and be a support. Likely, you also have knowledge and advice that will benefit others.
You'll want advice, test-taking strategies, learning materials, and most importantly encouragement from people who want you to achieve your educational and career goals.
Author's Recommendations:
GED® Study Guide: Strategies and Resources by Amanda Cabrera is licensed under a Creative Commons Attribution-No Derivative Works 3.0 United Stated License, redistribution of this article is allowed under the following terms outlined here.
GED State Testing info
Each state has its own GED testing rules and regulations. Get the scoop on your state.