GED Academy™ Accreditation
By
Howard Hughes

,

Adult Education Administrator
August 24, 2016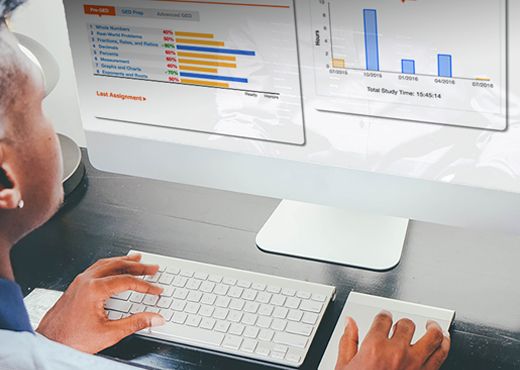 What does accreditation mean to you, and how do you know it's for real? The GED® certificate is the one of three nationally accredited high school certificates available today. The others are TASC and HiSET. They are all accepted by 98% of universities and colleges and virtually all employers. Bottom line: a GED, HiSET or TASC certificate is the gold standard for those who left high school early. If you're not taking one of these three exams, you may be earning an unaccredited diploma, and that can cause you problems in the future.
Making Sense of Online Certificates
Be very careful when searching out a GED certificate online. Most online certificates are not accepted by colleges and employers. The reason is simple. If the certificate is earned by taking a test online, then there is no way of knowing who really took the test. This is why colleges and employers insist on a GED, HiSET or TASC certificate.
What If They Say They Are Accredited?
Some online high schools offer an easy, fast GED certificate online for taking an online test, and say they are accredited. If you investigate, the accreditation agency is owned by the same people. It's a fake, just like the claims of a GED online certificate. An important thing to find out is whether the certificate or diploma will be accepted at the college you want to attend or by employers. Contact them and ask if they'll accept the diploma you're considering. Chances are, if it's not a state-issued high school equivalency diploma, they won't accept it.
The GED, TASC and HiSET Certificates Are Awarded by State
The high school equivalency certificates is so widely accepted because it is earned by taking an official test, overseen and administered by your state department of education. It might seem challenging to pass, but not if you prepare the right way. TASC, HiSET and GED online prep can be easy!
Approved GED Online Classes
The GED Testing Service approves study programs for the GED test. The only approved home study program for the GED test is GED Academy by the College of Essential Education. HiSET study programs are approved by the Educational Testing Service (ETS). Similarly, HiSET Academy is the only approved home study program for the HiSET exam.
These study programs don't award you a diploma. Instead, they prepare you for your state's approved HSE exam. The state will award your diploma when you pass the test.
Don't Get Scammed
Don't waste your time and money on websites that claim to give you a GED certificate online. These are scams. They just print out documents on a computer. A real GED certificate is issued to you by your state when you pass the test at one of the official GED testing centers.
Look into smart online study programs for HSE diplomas. You'll find that earning a real diploma using an approved study program can be fast and easy. You don't need fake "accredited" online diplomas.
Author's Recommendations:
GED Academy™ Accreditation by Howard Hughes is licensed under a Creative Commons Attribution-No Derivative Works 3.0 United Stated License, redistribution of this article is allowed under the following terms outlined here.
GED State Testing info
Each state has its own GED testing rules and regulations. Get the scoop on your state.